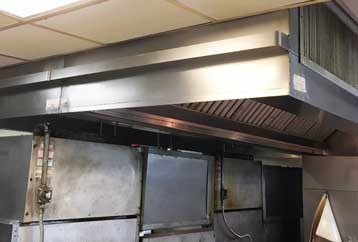 Exhaust Hood Cleaning Service
From a safety standpoint, an exhaust hood cleaning is one of the most important things you can do to keep your kitchen fire safe and to keep your food safe.  As filters start to overload with grease and oil from the vapors of your stove top and fryers, you can build up so much that the hood begins to leak and drip back towards your food preparation.  Since the exhaust hood and filters is not only picking up the grease and oil but is also picking up particulate matter such as dust, dirt, and human skin cells - you're risking contaminating your food.
Our goal is to give you the best exhaust hood cleaning possible
We're not just about making your hood pretty.  We're going to be doing an exhaust hood cleaning from the rooftop to the stovetop.  We want to get rid of any grease and residual that you have built up so that your hood is extremely clean and safe to use.  We know that the fire department and the health department require a good job but we want to go a step further in exhaust hood cleaning to give you a exhaust hood that you'd be proud of.
Last year, we cleaned hundreds of hoods and everyone of our clients was given a thorough exhaust hood cleaning report to be able to prove that the system was not only in working order, but also showing them that they will pass inspections perfectly. Check out our About page to know more about our company.
Do you want 'before and after' pictures of your exhaust hood cleaning?
Yep.  We'll run our remote camera through your exhaust hood before and after if you'd like.  Sometimes it's a good idea for you to have seen what your exhaust hood system looked like before we started, and I'm sure that you want to make sure you get your monies worth when we're done.  We don't mind taking pictures for you.  The pictures might even help you with your fire inspections too.
We're a busy place.
 

Can we have our hood cleaning done at night?

Well of course!  Actually, most of our exhaust hood cleaning services are done after midnight.  Our team of highly trained vampires are totally comfortable in doing there work after your restaurant has closed for the night and your range tops and fryers are cooling down.  We can start setting up for your cleaning moments after your last guest has been served.  The majority of our exhaust hood cleanings is done after midnight and we don't mind at all.  That's why we jokingly call our team - hood cleaning vampires. Contact us today!
Miami Hood Cleaning is proud to serve Miami as the best exhaust hood cleaning service and is fully insured, licensed, certified, and bonded.