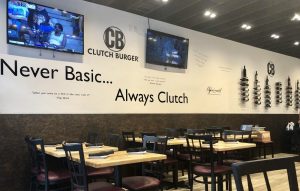 Clutch Burger opened about two months ago.  touts gourmet burgers, health conscious and allergy friendly.  They have craft beers, boutique wines as well as delicious coffee.  Their daily specials include $10 bottomless Mimosas from 11am to 1pm every day.
Their Corporate Executive Chef, Carlos Aguillera, has created a unique menu to cater to the hungriest of their clientele.  Their menu has a great variety of Appetizers including Fresh Tuna rolled with cucumber, choyote and crusted coffee in a spiced syrup, Fork de Port grilled duroc pork belly with carrot ginger puree and maple mustard vinaigrette, Dragon Fritters – crispy Atlantic cod served with dragon sauce and milk mayo tartar aioli.
There are unique Salads items.  Try the Drop The Beets – tri color beets, carrots, pickled mushrooms, crusted peanuts, radish with a goat cheese yogurt cream or the Bacon-Ceasar Teaser – roasted durok pork belly with garlic bread crisp and grana pandano cheese.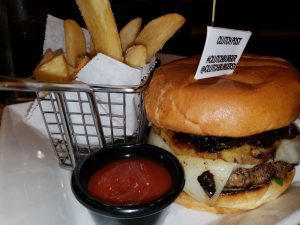 I think their Sandwiches sound very unique.  The Trifecta has challah Texas toast, gruyere cheese, white cheddar, bleu cheese, pepper crusted bacon, and tomato balsamic mayo sounds amazing.
Other items on the menu include Clutch Dogs.  Viva La Clutch is a favorite that is topped with potato onion hash, with queso fresco cheese and garlic cilantro aioli.  Their Burgers sound delicious!  You can try The 305 which is seared 6oz beef and chorizo patty, swiss cheese, xeiapy potato strings, cilantro garlic aioli, served in between 2 fried tostones or the Volcano Burger with white cheddar, topped with a roasted piquillo pepper, pickled onions, pickled habanero, peppers, arugula, pepper jack cheese, Applewood smoked bacon and pepper mayo served with a charcoal bun.
Patrons rave about Clutch Burger here.  They are located at 146 Giralda Ave., Coral Gables, FL which is only about 4.4 miles from the heart of Miami.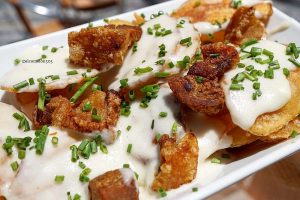 Located in Coconut Grove is the next restaurant that opened recently is Home by Gigi.  It opened approximately three weeks ago to rave reviews.  Chef Sebastian Fernandez heads up the kitchen and was recently invited to cook at SoBe's Best of the Best which had chefs from around the world.  He was featured in a Miami Herald articles as the chef for one of the six new restaurants opening a concept in Time Out Market Miami.  They are open for breakfast, lunch and dinner (don't forget Happy Hour).
Their menu of Appetizers feature Avocado Fries and Seared Tuna.  For breakfast you can order Two Eggs any style and add some hash browns that are to die for.  The Chicken Parmigiana Sandwich sounds wonderful for lunch or try the Wagyu Beef Burger which is served on Texas toast.
They have a full wine bar and their prices are reasonable.  You can get a bottle of champagne for only $18.00!
Lastly I wanted to highlight Simply Good Miami.  They are in the Little River part of Miami and opened about five weeks ago and offers a variety of vegan food.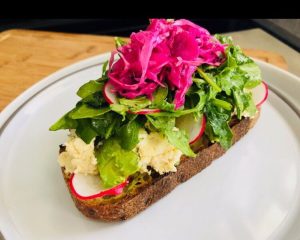 They cater to the coffee lover by offering Espresso's, Cappuccino's and Latte's.  You can get soda or sparkling water as well.  Their entrees include Pizza Toast – Housemade marinara, mozzarella, fresh greens, heirloom tomato and herb oil.  You can also try the Rainbow which is Beetroot hummus, avocado, shaved rainbow carrots and spicy moringa groats.
All of their desserts are vegan, free of flour, dairy and refined sugar.  So try their Snickers Slice or the Cookies and Cream guilt free!  Their signature dessert is SGM which is made of almpond butter, chia berry, jam, caramelized banana, chocolate drizzle and mesquite buckwheat groats.
Since Simply Good Miami has opened, they have gotten five star reviews from their patrons.  They are open from 11am to 3pm Monday through Friday and are closed on Saturday and Sunday.
These Miami restaurant reviews are supported by Wichita Hood Cleaning Pros http://wichitahoodcleaningpros.com