Miami Exhaust Hood Cleaning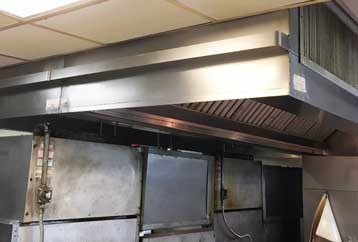 Miami Exhaust Hood Cleaning
If your commercial kitchen is past due for a professional exhaust hood cleaning, then you have come to the right place! Miami Exhaust Hood Cleaning in Miami, Florida is here to serve you! Our cleaning tools are specifically designed to thoroughly and meticulously clean your hood exhaust so that it looks and functions like new every time after our visit.
Why clean your exhaust hood? As you may or may not know, insurance companies have requirements for many restaurants to schedule regular cleanings. This is because the cleaner the kitchen equipment is, the less likely grease fires will occur. Health regulations also require regular cleanings as well. To determine how often cleanings are required in your kitchen, please contact your local board of health, as well as your insurance company and ask what their specific exhaust system hood cleaning requirements are. As a general recommendation, and also if you use grease on a regular basis in your kitchen, a service should be scheduled at least once every 90 days. Call Miami Hood Cleaning today and take care of your kitchen's cleaning needs!
What is included with a commercial exhaust hood cleaning service?
Whenever we visit a commercial kitchen, we are sure to comply with the local fire code and board of health regulations, while also cooperating with the business owner's needs. Since we are a professional exhaust hood cleaning service in the Miami area, we make sure that we maintain very high standards when cleaning your exhaust hood system. We use high-quality equipment for all of our commercial kitchen cleanings.
Our Miami exhaust hood cleaning techs are trained to inspect your full exhaust system from A-Z. We look at everything from the roof to the oven, as well as everything in between. Our technicians will also inform you of any potential risks, including fire hazards, harmful odors, and corrosion. You will be aware of every step we plan to take before we take it so that you remain informed while we perform our service.
We are experts in our field and love to educate the business owners we work with. For instance, one very important requirement that is often overlooked is to be sure the exhaust system cap has hinges. Hinging your exhaust is required in most states. An exhaust hood cap that is not hinged can become damaged if the hood has to be removed and placed to the side. Cleaning and maintenance are often performed on unstable rooftops. If the hood has to be placed to the side, instead of simply being lifted and remaining connected with hinges, then damage to the hood can occur easily. For instance, if the hood were to slide off or get picked up by the wind, the aluminum material can become dented or bent. Once damaged, a poorly fitted hood can cause a fire hazard. This is something we will inspect and implement if needed.
What is the importance of having your exhaust hood cleaned? 
Grease buildup can cause nasty odors to occur and can even become a fire hazard when proper maintenance is not implemented. One of the leading causes of grease fires in restaurants is from grease build up. Hood systems can reach extremely high temperatures within, and grease is highly flammable. Once the grease within the system gets hot enough to ignite, a grease fire will ultimately break out.
If you really want to know how dangerous grease fires can be, talk to any fireman who has dealt with this type of fire personally. They are hard to extinguish and water only makes the fire spread further. Special chemicals and equipment must be used to put out a fire of this magnitude and severity. Also, this type of fire spreads very quickly, making it extremely dangerous. It truly is the last thing you would ever want to deal with as a restaurant owner.
In addition to grease fires, not having a regular kitchen exhaust system cleaning can lead to roof corrosion. Grease fumes from grease build up in your system can cause corrosion to form, and this is an expensive problem to fix. It is much easier and more cost-effective to prevent corrosion, rather than have to deal with the mold, mildew, and deterioration associated with it. Damage from corrosion to the roof structure can cause it to collapse in some areas, attracting pests, allowing roof leaks, and ultimately requiring an expensive roof replacement. This is why we are sure to inspect every area of your restaurant from top to bottom when we visit.
Miami Hood Cleaning specializes in cleaning and maintenance of many different elements in your kitchen, and not just your kitchen exhaust hood. We love to be our customers go to for all of their commercial kitchen cleaning needs. We are experienced and knowledgeable in our field and our team has years of special training under their belts. We are bonded, licensed and certified exhaust hood cleaners in Miami, Florida.
 We enjoy what we do at Miami Exhaust Hood Cleaning.
We truly love our field of work and we love helping business owners. We really enjoy seeing a kitchen sparkle after we are done servicing it. It is a great feeling to know that a restaurant owner will have one less thing to worry about once we are done with our job. Give us a call today and we will be happy to meet with you and provide details on the services we provide. We are also happy to provide recommendations on a cleaning schedule that works for you and your commercial kitchen. Call now at
Miami Hood Cleaning is proud to serve Miami as the best exhaust hood cleaning service and is fully insured, licensed, certified, and bonded.